It's super easy to bring a Tiny Faces critter into your life!
If you are in the US
Just click the Add to Cart button on the page belonging to the critter you want to adopt. He/she will show up in your Shopping Cart (on the right side of your screen). Click "Check
Out with PayPal" and you will be brought to PayPal to complete the purchase. You do NOT have to have a PayPal account to use PayPal! You can use most credit cards and debit cards (your checking account is another choice if you have a PayPal account). It's safe and secure. That's all there is to it! Your critter will be removed from Available Bears page when I get notification that your payment has posted.
If you are outside of the US
Please do NOT use the above steps. (Because it costs more to ship to you, shipping is not free when you're outside the US. Sorry! The good news is that I can ship almost anywhere!) Please Contact Me *first* with your address so I can give you the shipping cost. If it's acceptable to you, I will then send you a PayPal invoice via email. As above, you do not have to have a PayPal account in order to use it.
Shipping time
If you paid via credit/debit card through PayPal, I ship within 1-2 days of getting the notification from PayPal that you've completed payment.  If you used your checking account via PayPal, I ship within 1-2 days of receiving notification that your payment has cleared (that can be 5 days or so).
I do offer Overnight shipping if you need something quickly. Contact me so I can give you the shipping price and send you an invoice via PayPal. Don't use the shopping cart if you need overnight shipping.
Layaway Plans
Yes, I sure do offer layaway plans on some (usually most!) animals. I realize that some artist creations are pricey, and I want you to be able to have the one you love—even if you can't afford him all at once. Here's how it works: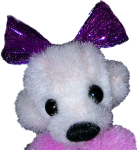 Layaway is offered as a 2-payment plan. That means that the purchase price is divided in half. The first half is due when I confirm with you that layaway is available for that critter. The second and final half (plus shipping if you are outside the US) is due no more than one month later.
All layaway payments are non-refundable and will be forfeited if you do not finalize payment. Please be really sure you want the animal before you start making payments. Please understand that I do this because the animal is essentially "off the market" for the entire time you are paying him off. I may have lost multiple chances to sell him during that time.
So here's how you do it! Contact me to confirm that layaway is available for the critter you want. If you decide you want him, your first payment will be due no more than 3 days from the date I send you the e-mail saying layaway is available. (If not received, the animal will again be available for purchase by others.) Your second payment will be due no more than 30 days from the date your initial payment was received. I will send you a PayPal invoice for both.
Guarantee
I guarantee that you will love your Tiny Faces critter when you receive him/her. If you are unhappy, you must contact me within two days of receiving your critter and let me know why you are unhappy. If the animal is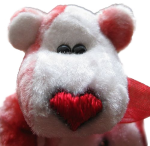 returned to me in exactly the same condition that I sent him to you in and packed with the same care, I will be happy to refund your purchase price when he arrives back here. However, you are responsible for any shipping costs you paid. (Animals must be sent back via Priority Mail with Delivery Confirmation.) Your refund will be via PayPal.
I don't expect this will be an issue, as I fully expect you will be thrilled with your new critter! I have never had an animal returned, but as there's a first time for everything, I wanted to cover it!