One-of-a-kind. Stuffed with personality. Absolutely adorable.
Not only are Tiny Faces made to the highest standards, they are also 100% unique. You will never see two exactly alike. Not ever. No patterns are ever used, which means that there is no way to exactly duplicate one.
Every single one of them is a true one-of-a-kind creation. The critter you welcome into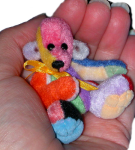 your home and heart is the only one of its kind—no other exists, will exist, or can exist—because there was no pattern used! This is one of the things that make Tiny Faces so special. They all have a certain "look" that quickly identifies them as a Tiny Faces creation, but every one of them is different, too! A wonderful combination!
My little creatures sort of make themselves. Because I don't use a pattern, I don't design rigidly. What I mean is, I don't sit down, cut out a pattern, and have strong expectations of what that bear (or dog, or bunny, etc) is going to look like. I design much more loosely: I cut my fabric freehand with only a vague idea of what I think the animal might come out looking like. As I sew, I don't demand he look a certain way, only that he be well-made. Each critter's look and personality comes to life all on its own under my needle and thread. I always say that they let me know quite clearly who they are and what they are going to look like rather than me telling them!
Size – Tiny Faces creations fall into two size categories. Minis range from 2 1/2 to about 5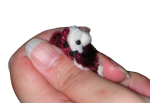 1/2 inches standing. The majority are right around 3 inches tall, from the top of their head to the tips of their little fuzzy toes! The micro-minis (or teensies as I like to call them!), range from a tiny 1 inch tall (standing!) to 2 1/2 inches. Most are right around 1 1/2 inches.
Material – I firmly believe that bears and bunnies, especially, should be round, fat, and fuzzy! My dogs tend to either be round fuzzy "mutts," or a bit more true to a breed look. Size-wise, the minis are made from vintage long-pile velvet, vintage wool/cashmere, or imported, high-quality synthetic (this is the stuff that's as expensive as mohair—lovely and oh, so soft). The micro-minis are made from upholstery velvet (generally medium-pile or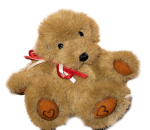 vintage long-pile), vintage rayon, or long-pile "cashmere." The description of each animal will tell you what he is made from.
Paw pad material – Paw pads are made from ultrasuede, short-pile "cashmere", or velvet.
Eyes -Eyes are almost always black and are generally made of glass. Once in a while, a critter will look at you through teensy onyx bead eyes. Some animals have a bit of white around the bottoms so their eyes appear to look upward.
Sewing – All animals are 100% sewn by hand by me. Only high-quality, strong thread is used.
Joints – All Tiny Faces are fully jointed (neck, arms, and legs). The minis are jointed with tiny T-cotter pins and disks. The micro-minis are string-jointed with super-strong thread. With both sizes, you get strong and lasting joints with full posability!
Child-safe? – No! Tiny Faces creations are for adult collectors. While they are made strong and with high-quality materials, they are definitely not suitable for children. They have small parts and are NOT suitable for children or as a child's toy.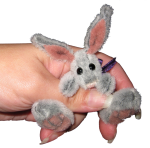 Stuffing – All critters are stuffed with high-quality polyester fiberfill, love, and tons of personality!
Weighted? – Sometimes, yes! The description of each animal will tell you if he's been weighted.