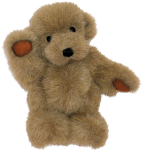 Welcome! Every single Tiny Faces critter is a true one-of-a-kind. Designed entirely from my imagination, there will never be, can never be, another exactly like him/her.
Tiny Faces critters range in size from a wee one inch up to a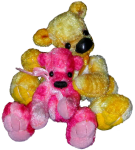 whopping (for me!) 6 inches. They are all fully jointed (yes! even the tiniest of them!), and all of the bears, bunnies, and many of the other animals are fat and fuzzy—like they should be!
Tiny Faces creations are sewn by hand with much love and many teensy stitches and are stuffed with personality and hugs!
Please feel free to wander around the site. There's much to see here! (Don't miss the Available Critters page and the Photo Gallery.) Should you decide to bring a Tiny Faces creature into your home, you'll find your new addition always puts a smile on your face.

They're the very best at giving teensy little hugs and more unconditional love than you can imagine. So have a look around the site—my critters are meant to touch your heart and bring you joy; I sincerely hope they do!
(PS – If you're looking for Purple Valley Bears, you found me! The little guys have a new name and a newly redesigned site! Same artist [that's me!] and same tiny cuties!)